21.01.2022
HORRID HENRY'S KRAZY KARTS FOR NINTENDO SWITCH



DOWNLOAD NOW from the eShop on your Nintendo Switch.

Play as Horrid Henry or race head-to-head as Rude Ralph, Moody Margaret, Perfect Peter, Brainy Brian or Singing Soraya and win cups and upgrades to become the ultimate Horrid Hero!

Customise your kart in the workshop for extra advantage. Win perfect power-up tokens to leave everyone else standing! Control your kart as you swoop over awesome jumps and dodge obstacles, gross goo and loads of smelly snot slime!

Multiplayer Mode to play with friends and create your own levels to challenge and share as you race through forty challenging levels in four fantastic themed locations.

Fun, fast and frantic, this non-stop action-packed racing game will keep you entertained for hours!

FEATURES:
- 40 challenging levels.
- 4 mischief making locations; Gross World, Ashton Town, Ashton Primary and the Park.
- 8 mighty mini-game experiences.
- Customise your karts in Henry's Workshop.
- Multiple power-ups and terrific tricks to collect and deploy.
- Tournament and Race Mode options.
- Level design editor for you to create and share your own Horridly tricky challenges.
- Single and multiplayer modes.

The most Horrid of games that even your Great Aunt Greta will love to play (but don't let her 'cos you'll never get it back again!)

For your convenience, Horrid Henry's Krazy Karts is available to download from the eShop on your Switch, so you won't find it on the highstreet just yet!

Nintendo Switch is a trademark of Nintendo.
30.06.2020
Ben and Holly's Magic School has been chosen by Apple as part of a special feature for the best 5 Apps for the Little Ones.
Neatly sitting alongside it's sister brand Peppa Pig, Magic School was chosen for standing out as a fantastic contribution to the App Store.
Budding Fairies and Elves can join Ben & Holly at Magic School where they can learn to play a variety of creative and magical fun games and activities to graduate and earn their Magic Certificate.
Featuring the characters plus all the familiar music and sound effects from the TV show, BEN & HOLLY'S MAGIC SCHOOL is guaranteed to offer a magical experience for all little fans that they will enjoy time and time again.

CLICK TO DOWN LOAD NOW AND PLAY
13.03.2020
Ben and Holly's Big Star Fun App is a real Hidden Gem according to
gameskeys.net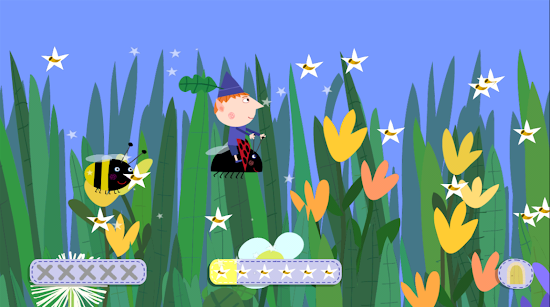 CLICK IMAGE FOR MORE INFORMATION