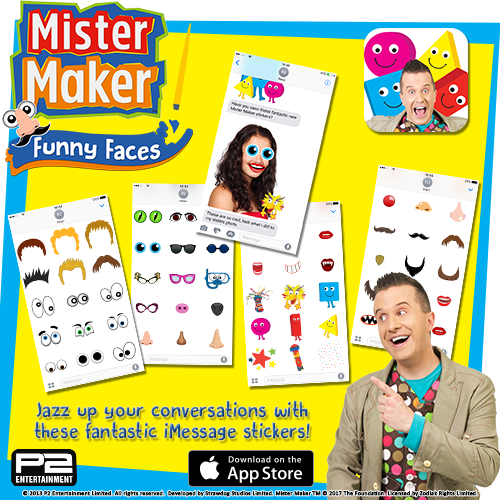 CLICK IMAGE TO DOWNLOAD NOW FROM THE APPSTORE
Make your iMessages fun with Mister Maker and his crazy Funny Faces stickers.
Nobody does funny faces better than Mister Maker and now you can customise your conversations with this whacky range of hair pieces, moustaches, beards, mouths, noses, glasses and of course the famous Googly Eyes.
Jazz up your photo messages by adding a moustache, popping eyes and a cheesy grin. What does your best friend look like wearing a snorkel, would your favourite soap star look better with a beard, or how about adding a red nose to your sisters holiday snap.
Add as many as you like to your messages for endless chat fun!
Contains 57 animated and static medium sized stickers.